"Are you looking to improve your personal best score?  Are you close but haven't been able to break 80 or are you a tournament player looking for a competitive edge?  If you're serious about your game, Before the First Swing is for you." -J. Yuhas, PGA golf pro at Kendall Academy
Most golf conditioning programs are too basic or too complex and tedious. BTFS  takes a clinical approach from an injury prevention perspective from someone who has treated, and managed preventable golf injuries. The techniques in BTFS are easy to execute and are 'site specific' meaning you will get the stretch you need and learn how to strengthen weak areas affecting your game! These are original techniques perfected over years (25 years) of clinical application and training. I have used these training methods for years when training golfers was thought of as 'taboo' Don't be fooled by imitations. This program is an original that you won't find anywhere but BODY SPECS!
One of the benefits of BEFORE THE FIRST SWING is that it dispels some common myths about back tightness and pain. I have seen some of the popular golf stretch programs and they demonstrate some classic techniques and  stretches that will feel great. Unfortunately, it only masks the symptoms and does not address the cause. I introduce a technique called a 'sacral (sacrum)' stretch that addresses hamstring tightness, upper/low back tightness, groin tightness, glute tightness and the hip all in ONE movement.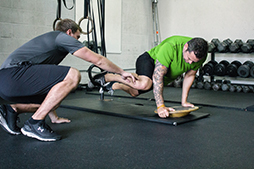 LEARN:
How age can affect stretching effectiveness!
Why you SHOULD train year round!
Why that back pain is NOT a back problem!
How ankle mobility is KEY on ball impact!
(Man, there is just so much more that will change the way you think about being better. Its not as hard as you think!)
BEFORE THE FIRST SWING is the ultimate way to improve:
Power
Mobility
Stamina
Sustainability
Strength
Decrease spine soreness and increase hip/lumbar (low back) flexibility
…and so much more of Skip's proprietary techniques for improving your golf swing and game TODAY
Age does not matter! So I can CUSTOM design a program especially for you! I promise you before you take that first swing to when you take that first swing, you will wonder why you did not do this sooner!
CONTACT US!
734.260.3561 
Our Location:
Washtenaw Country Club
2955 Packard Rd
Ypsilanti, MI 48197