Hours
Monday 12PM-5PM
Tuesday – Thursday 7AM-1PM
CLOSED Fridays
Saturday 7am-noon
CLOSED Sunday

STRONGer, LEANER, BETTER THAN EVER.
Struggling to lose weight? Recovering from an injury? Our approach to orthopedic rehabilitation and physique development makes us the most sought-after personal trainers in Ann Arbor and surrounding areas.
There are so many programs that lack innovation and creativity – it's easy to get bored with predictable workouts, which may be why you've probably had a hard time sticking to a routine. Not at Body Specs! We provide a training environment that is so dynamic, you never know what each session will bring. From junior athletes to general fitness, we've got you covered. Are you ready to get back in the game?
Let's get to work.
I wanted to say a huge thank you for all of your help in getting me back to soccer. After the complications with my doctor and physical therapist, I was really worried that I was not going to be ready to play my senior season. Without your help, I could not have done it. I owe you the world for not only making my knee strong and ready to play, but for helping me gain my confidence and mental strength back. So many people doubted me, but not you guys..and that meant the world!!! I loved coming in and getting to work. While it was extremely challenging, you and the other staff members always made me want to be there. YOU GUYS ARE AMAZING and a huge answer to my prayers.

– Hannah Bird (Brigham Young University)
READY TO BE YOUR BEST?
Take a quick survey and receive a FREE PERSONALIZED EVALUATION from Skip Bunton!
It's time, let's get started.
SKIP BUNTON MS, ATC
President & Founder of BodySpecs Ltd.
2x Men's Journal "Top 100 Trainers in America"!
30 Years Experience in sports medicine, sports injury management, sports performance training, general training and Junior athlete programs!
8X Best of Ann Arbor for Personal Training!
2019 inducted into Ann Arbor business Hall of Fame!
READY TO BE YOUR BEST?
Take Skip's personal challenge and receive a FREE EVALUATION from Skip Bunton!
It's time, let's get started.
SKIP BUNTON
– 8X Best Of Personal Training In Ann Arbor
– 2019 Inducted Into Ann Arbor Business Hall Of Fame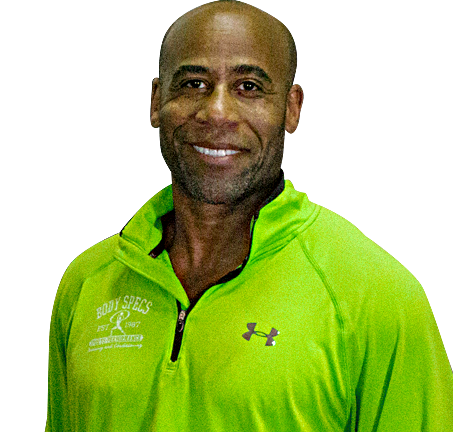 CONTACT US!
Our team is ready to help build you up and provide the experience you deserve. Please call us today or stop by our facility and say hello. Contact us for more information on our FREE TRIAL.
Hours
Monday 12PM-5PM
Tuesday to Thursday 7AM-1PM
CLOSED Fridays
Saturday 7am-noon
CLOSED Sunday

Our Location:
2955 Packard Rd
Ypsilanti, Mi 48197