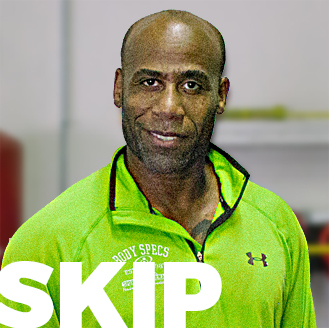 HIGHLIGHTS
President & Founder of BodySpecs Inc.
27+ Years Experience
2x Men's Journal "Top 100 Trainer"
Award Winning Author
EDWIN "SKIP" BUNTON, MS. ATC.
Edwin "Skip" Bunton, MS. ATC. is the President and Founder of Body Specs, Inc. Skip has over 27 years of experience in orthopedic rehabilitation of sport-related injuries, physical development, and sports performance.
As one of the best known fitness instructors in Ann Arbor, he listens carefully to his clients and biomechanically analyzes the causes of their dysfunction and pain, as well as the ways in which they compensate for them. Using that information and his knowledge of anatomy and physiology, Skip improves athletic performance and rehabilitation of chronic orthopedic ailments that hamper functional progression, especially in sports.
Skip is an education provider for the National Academy of Sports Medicine, National Strength Conditioning Association, American Council on Exercise, and USAT. He's also been voted one of the Top 100 Trainers in America by Men's Journal for two consecutive years. Voted 'Best in Ann Arbor' for personal training 3x. He's an award-winning author whose works have been published in the Journal of Athletic Training, Mosby's Yearbook in Sports Medicine, the National Institute of Sports Medicine (United Kingdom) and Athletic Therapy: Health Care Perspectives
HIGHLIGHTS
President & Founder of BodySpecs Inc.
27+ Years Experience
2x Men's Journal "Top 100 Trainer"
Award Winning Author
 CONTACT US!
Our team is ready to help build you up and provide the experience you deserve. Please call us today or stop by our facility and say hello. Contact us for more information on our FREE TRIAL.
Our Location:
2955 Packard Rd
Ypsilanti, Mi 48197